Credits
References & Credits
arc42 Structure
This web site uses material from the arc42 architecture template by Peter Hruschka and Gernot Starke.
---
Content
A first version of this architecture overview has been published in the book "Softwarearchitekturen dokumentieren und kommunizieren" (1st edition 2012). The contents were supplemented for the 2nd anf 3rd edition.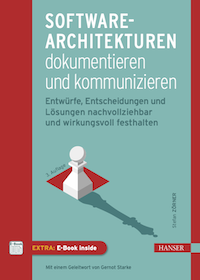 Softwarearchitekturen dokumentieren und kommunizieren
Entwürfe, Entscheidungen und Lösungen nachvollziehbar und wirkungsvoll festhalten
Author: Stefan Zörner
Publisher: Carl Hanser Verlag, 3rd Edition December 2021
Language: German
ISBN: 978-3-446-42924-6
Number of pages: ca. 300
Book Website (German)
Buy at Hanser
Buy at amazon.de
---
An English version is included as a chapter in the following e-book.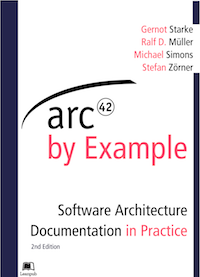 arc42 by example
Real software architectures, documented with the arc42 template. Helps you jumpstart your own documentation.
Authors: Gernot Starke, Michael Simons, Stefan Zörner, Ralf D. Müller
Publisher: Leanpub
Language: English
Formats: PDF, EPUB, MOBI
---
This page was generated by Hugo, the world's fastest framework for building websites. Hugo is one of the most popular open-source static site generators. With its amazing speed and flexibility, Hugo makes building websites fun again.